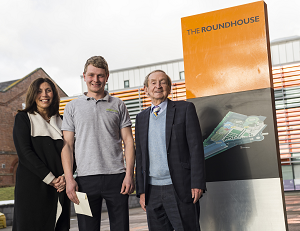 An apprentice at Derby College has been awarded a £1,000 bursary from construction company Bowmer & Kirkland to support his future studies and job career goals.
Matthew Johnson (22) from Breadsall works for Jenbrooke Construction and attends Derby College on day release to complete his level three brickwork apprenticeship.
He will be representing Derby College again this year on the Skillbuild inter-college construction competition and has been nominated for the bursary by his College lecturers in recognition of his hard work and commitment.
Matthew was presented with a cheque from John Kirkland, chairman of Bowmer & Kirkland who launched the annual bursary scheme following the company's completion of the £48 million Roundhouse campus restoration and building programme.
Mr Kirkland explained: "We set up the bursary soon after the Roundhouse officially opened to students in 2009 to support young people starting out in their career in construction.
"Matthew is obviously a young man who is working hard to make his mark on the construction industry and I hope that the bursary will inspire him to aim high."
Matthew is a former pupil at Da Vinci School and started work as a farm labourer before clinching an apprenticeship with Jenbrook Construction in Derby.
He said: "I am over the moon to be awarded this bursary which I will be using to buy tools and also, potentially, to pay for future courses in Professional Construction as I would like to progress onto surveying and site management jobs."
Jenbrooke Construction Managing Director Andrew Pulfrey: "Matthew is a great lad and we have high hopes for him in the future. I am so pleased that he has been recognised in this way by the College and Bowmer & Kirkland.
"We recognise that apprenticeships are essential for this company and are the future leaders in the construction industry as a whole. It is therefore important that we nurture young people and develop their skills to ensure they achieve their goals."
Derby College Deputy Chief Executive Heather Simcox concluded: "We are very grateful to Bowmer & Kirkland for supporting our Construction apprentices and students with this annual bursary.
"We hope that Matthew continues to aim high and look forward to supporting him as he progresses through his career in the construction industry."