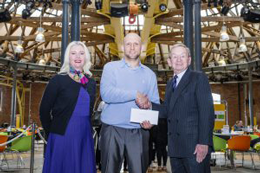 Haralds Jonans (36) from Chaddesden is originally from Latvia. He is one of more than 20 deaf learners who attend Derby College – supported by signers in the workshop and in lessons.
He and his young family have been in the UK for six years and moved to Derby four years ago. Having had various temporary jobs, he returned to Derby College to train to be a plasterer.
Haralds was presented with a cheque from John Kirkland, chairman of Bowmer & Kirkland who launched the annual bursary scheme following the company's completion of the £48 million Roundhouse campus restoration and building programme.
Mr Kirkland explained: "We set up the bursary in 2009 to support young people starting out in their career in construction and mature learners who have returned to education and training.
"Haralds is an inspiration man who evidently has not let his hearing impairment stand in the way of his ambitions to come to this country, retrain and provide for his growing family.
"By all accounts he is an extremely talented and hard working plasterer and we wish him every luck in the future."
Earlier this year, Haralds won a gold medal in the regional finals of the Skillbuild competition and is waiting to hear if he has won a place in the national finals in Birmingham next month.
He said: "It has been a very good year – returning to College and winning the competition.  I am very shocked and grateful to have got this bursary.
"I will help me buy the tools I need to hopefully get a job in construction and to help my family.  We have a three year old and another baby on the way so this will certainly ease the pressure on us."
Derby College Chief Executive Mandie Stravino said: "Our role as a College is to prepare learners for the next stage in their lives and this obviously includes mature learners who return to education and training for a number of reasons.
"Ofsted, who graded the College as 'Good' with 'Outstanding' features earlier this year were particularly complimentary about the high level of support that we provide our learners to breakdown any barriers that they face.
"Our Deaf Support team does a fantastic job and Haralds' progress is testament to their care and commitment.
"Haralds is a wonderful role model for young people and other mature learners.  He has embraced the support available to him here, developed his plastering skills to a very high level and certainly deserves this recognition from Bowmer & Kirkland who are very supportive of the work that we do at the College to train the next generation of construction employees."