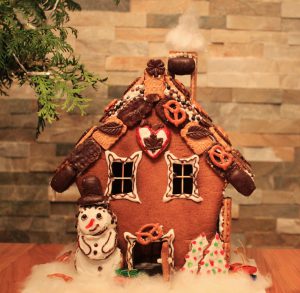 Derby College has launched a special programme to help people make their own festive decorations.
The short courses will be held at the Roundhouse, Joseph Wright and Broomfield Hall campuses in the coming weeks as part of the College's Learning for Leisure programme – designed to introduce local people to new skills and hobbies.
Two-hour workshops in December will be held on making gingerbread houses, door wreaths, ceramics, bunting, reindeer and table decorations and vouchers are available to buy the courses as an early Christmas present.
A full programme of taster and short courses will then start again in January covering a wide range of topics and skills from holiday Spanish, vintage floristry pottery and bricklaying to cookery, furniture restoration and beauty therapy.
Derby College Chief Executive Mandie Stravino explained: "Our adult and part time learning offer has traditionally focused very much on vocational and academic skills that lead to nationally recognised qualifications to support people in their career aspirations.
"I am however passionate that learning has many other benefits such improved health, wellbeing and increased self-confidence.
"I am delighted that we continue to expand our learning for leisure programme which is ideal for local people who want to pursue a new hobby, build on existing skills or perhaps gain the confidence to return to learning on a more formal footing.
"The courses are run by our team of specialist lecturers and make further use of our superb facilities at Derby College.
"They are designed to be relaxed and sociable experiences and an opportunity to meet new people who share a common interest."
For more information about these and all the courses available at Derby College, please call 0800 028 0289 or visit www.derby-college.ac.uk/learning-for-leisure.