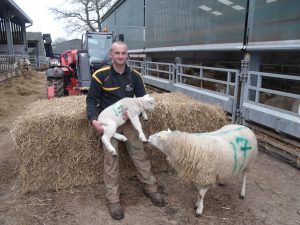 Derby College's agriculture apprentice Mike Bosworth (23) has won a place in the  finals of the National Shepherd Association's Young Shepherd competition after winning a bronze medal in the regional heats.
Mike, from Little Eaton, is combining his apprenticeship on the working farm at College's Broomfield Hall land-based campus in Morley with supporting younger students there.
He represented the College in the regional heats at Bakewell – competing a written examination and several practical tasks including sheering.
Mike said: "This was the first time I had entered a competition like this and, although I was disappointed not to come first, I am delighted that I have qualified for the national finals.  They will be held this time next year but we have not been told when or where yet."
Mike studied Countryside Management at college and has worked on farms since leaving school before coming to Derby College.
"I concentrated on Game management as part of my college course and have had more experience of working with cows before coming to Broomfield Hall.
"I love working with the sheep here – particularly with the small flock of Derbyshire Gritstone that we are breeding.
"It has been a busy few weeks with lambing on the farm and I particularly enjoy my role as a Curriculum Support Assistant – helping the students with practical tasks as part of their study programmes."
Farm Manager Adrian Oliver concluded: "Mike did a brilliant job as this is not an easy competition.  It was a great opportunity to showcase the skills he has been learning as part of his apprenticeship with us and I know that he will do very well in the national finals with even more experience under his belt."