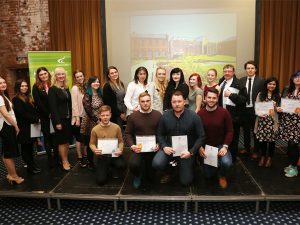 Higher Education students at Derby College came under the spotlight at an awards ceremony at the Roundhouse to celebrate their success. The keynote speaker was Peter Dawber, Dean of Nottingham Trent University's School of Architecture, Design and the Built Environment who talked about his career and stressed the importance of lifelong learning.
As well as certificates for completing their Higher Education study programmes at the College in Construction Management, Animal Management and Business, there were several special awards, sponsored by the Derby College Students' Union (DCSU), which were presented by President Gary Malcolm and Head of HE at the College Robin Webber-Jones.
HE Student of the Year was presented to Ryan Barber (22) from Derby who first joined Derby College as a 16-year-old from Murray Park School on the level two Uniformed Public Services programme.
He has progressed through the FE and HE programmes and has now gained a BA Hons degree in Security and Offender Management.
Ryan is now working for Remedi UK – a voluntary sector charity founded in 1996 providing restorative justice services and training across the youth and adult criminal justice system -with a view to further training to become a probation officer.
Ryan said: "I am so glad that I have stayed at Derby College through my education because we get so much more one to one support here and I am moving on with far less debt than if I had gone away to university.
"It has been a brilliant experience at Derby College and I was very surprised when it was announced that I was the Student of the Year."
Robin Webber-Jones concluded: "Ryan's hard work and his determination to succeed makes him a worthy recipient of this award and we wish him every luck in the future.
"This event marks continued success in our HE offer in partnership with a wide range of universities and employers. We have been highlighted by the Quality Assurance Agency for Higher Education (QAA) for our work with businesses to improve employability of students and we have been ranked as one of the top three colleges in the UK for delivering Higher Education.
"We have our largest ever cohort of students on an ever-expanding HE programme and we have been ranked as one of the top providers for student support.
"It has therefore been an important event to mark our students' successes and to wish them well in their future studies and careers."