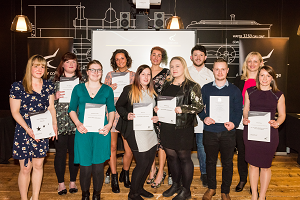 Higher Education students at Derby College came under the spotlight at an awards ceremony at the Roundhouse to celebrate their success.
As well as certificates for completing their Higher Education study programmes at the College in Construction, Animal Management and Business, there were several special awards presented in recognition of students' personal achievements.
These were presented to Construction Management students Alex Cockayne, Alex O'Brien and Carrie Hallsworth, Animal Management students Rosanna Fox and Chloe Mellors and graduate Ellen Radage, PGCE gradate Kelly Armstrong as well as CYPS student Tanya Lillie.
Derby College Director of Higher Education Robin Webber-Jones explained: "This event marks continued success in our HE offer in partnership with a wide range of universities and employers.
"We have been highlighted by the Quality Assurance Agency for Higher Education (QAA) for our work with businesses to improve employability of students and we have been ranked as one of the top three colleges in the UK for delivering Higher Education.
"We have our largest ever cohort of students on an ever-expanding HE programme and we have been ranked as one of the top providers for student support.
"It has therefore been an important event to mark our students' successes and to wish them well in their future studies and careers."