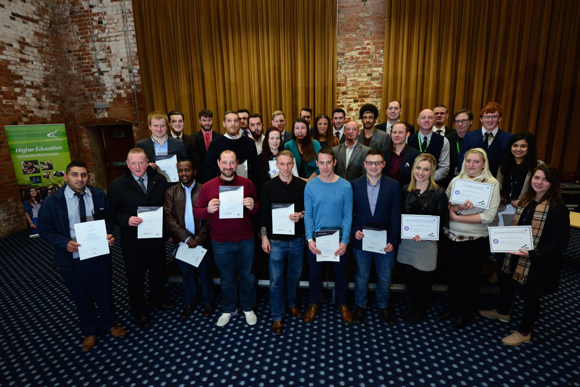 Higher Education students at Derby College came under the spotlight at an awards ceremony at the Roundhouse to celebrate their success.
As well as certificates for completing their courses at the College, there were several special awards, sponsored by the Derby College Students' Union (DCSU) which were presented by President Charlie Baker.
Four students were shortlisted for the HE Student of the Year award which was won by HND Public Services student Jessica Coyne (21) with fellow Public Services student Zenna Rhodes (21) and Foundation Degree Construction student Tom Moss (24) highly commended.
Jessica, who is a former pupil at Leesbrook School, came to Derby College after GCSE's to study Public Services and is currently in her final year of the Higher Education programme with plans to join the Army.
She and Zenna have been best friends from school and Zenna combines her studies with sports coaching in primary schools.
Tom, a former Belper School pupil, has graduated from Derby College with a Foundation Degree in Construction Management. He is now continuing his studies at Nottingham Trent University with the top up degree I BSc Construction Management and works at Bowmer Kirkland as a technical trainee.
The HE Students' Choice Award was nominated by students either for a fellow student or member of staff who had supported them in their student journey.
Awards were presented to Kelly Lane, an HNC in Animal Management student. Members of staff recognised with an award were Animal Management lecturer Amy May; HE Study support coach Kelly Parmar as well as Construction Management programme leader Richard Bell and tutor Phil Young.
The Excellence awards were nominated by teaching staff and presented to Carly Baxter, a Foundation Degree student in International Hospitality; Daniel Nicholls, FD Construction student as well as Anthony Warren who has been studying HNC Engineering.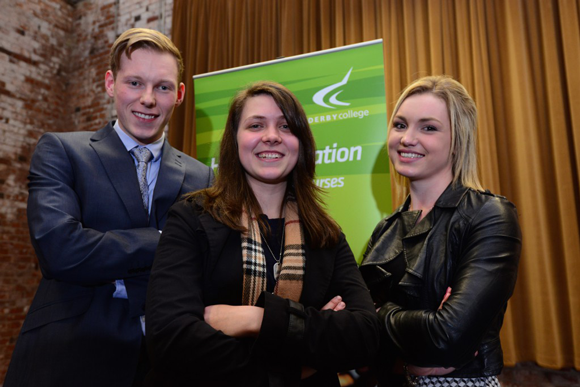 There are currently more than 420 people studying higher education at the College.
Part time courses aimed at people who are combining studies with full time work include programmes in Construction Management, Children's and Young People's Services, Special Educational Needs and Disability and Education. Full time courses include Engineering, Animal Management and International Hospitality Management.
Derby College Higher Education Manager Robin Webber-Jones explained that 2015 had been a successful year for the College.
Highlights have included the launch of a teaching and study suite for HE students in partnership with IT companies Fujitsu and Intel; and recent praise from the Quality Assurance Agency for Higher Education (QAA) for the College's work with businesses to improve employability of students.
"We have been ranked as one of the top three colleges in the UK for delivering Higher Education and this awards evening has been organised to recognise and celebrate individuals' dedication and commitment to their studies."
The guest speaker for the event was Stephen Hunt, Senior Manager with GF Tomlinson construction company.
Mr Tomlinson is a former student at Derby College and the company is now part of the College's Employment and Skills Advisory Board – ensuring the curriculum delivers the skills that employers need to grow their businesses.
He said: "I want to congratulate everyone here and thank their employers and families for the support that they provide and would appeal to everyone to continue learning throughout their careers."