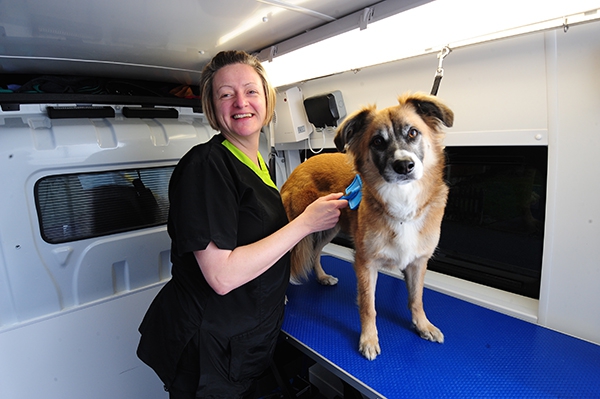 Derby College is offering the chance for people to embrace their love of animals and re-train to work in pet grooming.
The 18-week International Professional Groomers Course will be held one day a week at the Dog Grooming salon at the College's Broomfield Hall site in Morley starting next month (February).
It will cover a wide range of skills including practical grooming skills, pet health, canine behavior and handling.
Dog Grooming and Animal Care Lecturer Sue Oliver explained: "There are extensive career and self-employment opportunities for professional groomers.
"This course is therefore ideal for people who have a passion for animals and want to gain a first class qualification to train in this profession.
"The course is a combination of class room work and then practical sessions in our on-site commercial dog grooming salon to give people real hands on experience of the profession."
Among the mature learners who have gained professional grooming qualifications at Derby College and now moved into a successful career is Zoe Longdon who now runs Rovers Return, a mobile dog grooming service.
Zoe, who lives near Eastwood, explained: "I've had lots of jobs over the years including being a dog warden in Nottingham.
"To get a better work-life balance, I took the decision that it was time for a change in career but I still wanted to work with dogs and joined the course at Broomfield Hall.
"I gained a great deal of confidence on the course and, although it was not easy, I was determined to learn these skills properly so that I could set up in business.
"I started the business last summer and already have 85 clients so the business is going from strength to strength.
"Going back to College has helped me achieve my dream and I am loving every day."
For more information about this and all the part time learning opportunities at Derby College, visit the website www.derby-college.ac.uk or call 0800 028 0289 for a 2016 prospectus.