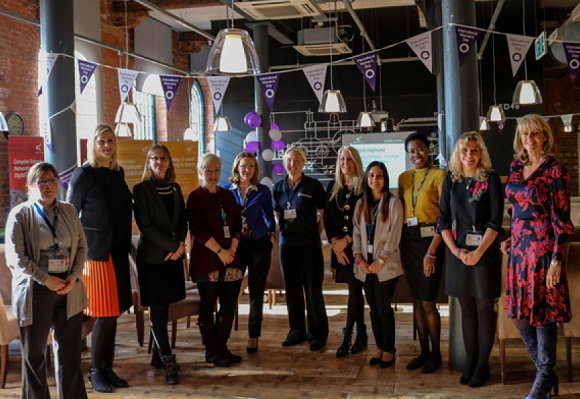 Derby College celebrated International Women's Day with an event recognising the achievements of women at local and regional businesses focused on Science, Technology, Construction, Engineering and Maths and highlighting career opportunities available to young people.
Female students and apprentices attended the seminar at the Roundhouse campus in Pride Park when they heard from a range of senior women from a number of local businesses who work with the College to co-design and co-deliver the curriculum.
They were Fiona Barton, Principal Materials Engineer at Rolls-Royce plc; Suzanne Hill, Director and Quality Executive at AQUA-I; Julie Lawrenson, Training and Development Manager at Bell Group; Emily Campbell and Damini Mistry, Civil Engineers at Balfour Beatty and Amy Revell, Business Development Associate at Paragon and East Midlands Chair of the National Association of Women in Construction.
Senior leaders and lecturers from Derby College also spoke about their own experiences in science, and construction sectors.
Derby College Deputy Principal April Hayhurst said: "There is a world of training and career opportunities available in STEM subjects and I hope that this event inspired our female students to aim high and follow in the footsteps of our guest speakers who continue to make their mark in the workplace."