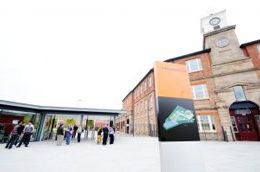 As part of information evenings at the Roundhouse campus in Pride Park – Apprenticeship Ready sessions will be held on January 26 and then March 14, both between 5.30pm and 7.30pm.
The College's apprenticeship team will help young people create a user account on the 'Get My First Job' system and then search for and complete online applications for current vacancies.
There will also be CV writing and interview support as well as the opportunity to take Maths, English and ICT screening tests which are required for all apprenticeship applicants and are valid for six months.
Some local employers with current and future planned apprenticeship vacancies will also be attending the events to meet potential candidates.
April Hayhurst, Derby College's Deputy Principal – Employer and Economic Affairs,  said: "The Apprenticeship Ready sessions were piloted earlier this year and the feedback from both employers and young people was extremely positive.
"This is an opportunity for young people who are either looking for an apprenticeship position immediately or who are planning ahead for after their summer examinations.
"As well as giving young people a head start in their apprenticeship plans, the sessions help us to identify if there are any gaps such as work experience or additional training required to increase the young person's chances of progressing into an apprenticeship."
She continued: "For young people, apprenticeships are the opportunity to earn while they learn – combining valuable work experience with nationally recognised qualifications.
"And businesses benefit from harnessing the energy and enthusiasm of young people, teaching them the skills they need to grow their business and ensuring that they do not face future skills gaps with an ageing workforce.
"As part of our support to businesses – we provide a recruitment service to help them find the young people who will benefit their organisations and pre-apprenticeship training programmes to support young people with the skills they need to be successful in their search for jobs."
For information about current apprenticeship vacancies with Derby College, please visit the vacancies page www.derby-college.ac.uk/apprenticeships-earn-learn