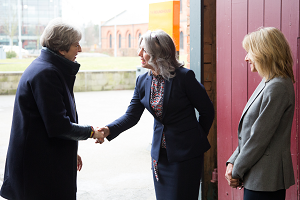 Derby College Group's historic Roundhouse campus, in the city, was chosen by the Prime Minister's Office to host the announcement of a major review into post-18 education.
The Prime Minister was joined by Secretary of State for Education Damian Hinds who praised Derby College's work to prepare young people for the world of work.
Here, Derby College Group (DCG) Chief Executive, Mandie Stravino, gives her reaction to the announcement and explains why the involvement of FE is a crucial part of the overall review.
"When we were approached by the Department for Education and the Prime Minister's Office to host the event we were initially surprised as it is unusual for an announcement of this magnitude to be made in a college.
"However, I think that this was in recognition of the broad range of high quality work that we at DCG, and indeed the FE sector, provide and the positive impact that it has on social mobility across our communities.
"It also raised the profile of the breadth, flexibility and vocational/technical strength of the higher education offer within the FE sector which is too often invisible to potential students and the wider outside world.
"The reality is that colleges' HE offers provide high quality vocational/technical options that are and affordable alternatives to young people and adults alike at whatever stages of life – whether they are looking to enter the workplace and progress their careers.
"The Chair and I had the opportunity to talk to the Prime Minister and Secretary of State before the official announcement.  Following the announcement three of our HE students, who are combining work with studying HE qualifications, met with the PM.
"They have come to us from a mixture of employers from SMEs to global engineering companies – all of which are the bedrock of our regional economy.
"The students articulated superbly the value that they are gaining from the tripartite between the individual, the employer and the College which has enabled them to benefit from HE whilst working.
"All three are studying qualifications which are relevant to their current jobs and their future career aspirations. Their employers recognise the benefit to their companies of highly-skilled staff who have the drive and ambition to contribute to their future growth through the skills that they learn here.
Mrs May spoke at length of the need to give the same recognition and value of vocational/technical higher education as academic routes.
FE's specialisms and proven expertise in technical/vocational routes are further expanded at higher education level achieve this vision and should not be under estimated as part of this review.
"I hope that the broad scope of this review will therefore take all aspects of higher education into consideration including apprenticeships, access and foundation courses – recognising that all routes are valuable to provide the skills needed by employers and give everyone the opportunity to realise their career ambitions.
FE continues to have a vitally important role to play in this debate and, by actively participating in the review, this is an opportunity for the sector to gain the recognition it deserves to achieve this goal."