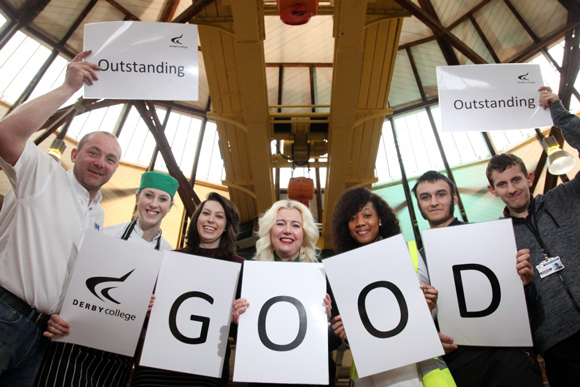 Derby College has been praised by Ofsted as 'a valued resource for the city of Derby and the county of Derbyshire' following a recent inspection.
The Ofsted inspection report (available online at http://reports.ofsted.gov.uk/inspection-reports/find-inspection-report/provider/ELS/133585) has graded Derby College as  'Good' overall.
Two key areas were also judged as 'Outstanding'.
The College's partnership work with employers to design and deliver the curriculum was praised as was the success of the Employer Academies with local businesses to deliver master classes and internships.
The quality of work with high needs learners is was also 'Outstanding' – enabling young people to achieve their learning goals, gain valuable work experience and develop very good social, personal and communication skills with a clear focus on preparing them for future employment and greater independence in their everyday lives.
Ofsted inspectors visited the College in early March – scrutinising the work in the College's four main campuses in Derby, Ilkeston and Morley, as well as at community venues and in the workplace.
Derby College's Chief Executive Mandie Stravino and the senior management team have been singled out for particular praise for the implementation of rapid improvements to 'provide an inclusive and welcoming environment with high quality learning facilities that local people value'.
Key findings from the report also highlight that teaching and learning are good with a curriculum that is responsive to the needs of the local economy. Teachers are well qualified and passionate about their work.
Inspectors found that learners were well-behaved, confident and proud of their college with more young people and adults choosing to study at Derby College and succeeding in their progression to higher education, work or apprenticeships.
Significant improvements have also been made in the success of apprentices and learners of all ages since the previous inspection in 2014 with apprentices developing good vocational skills which improve their employability and which contribute to the success of their employers' businesses.
Mandie Stravino said today: "This excellent Ofsted report is good news not just for Derby College as an organisation but for the wider city and county that we support.
"In his verbal feedback at the end of the inspection, the lead inspector said that the grade profile awarded to Derby College places it in the top 25% of colleges which greatly enhances the marketing of Derby and Derbyshire to potential inward investors.
"Our role as a College is to provide learners with the skills, attitudes and employability skills to progress onto the next stage of their lives – whether that is to higher education, work or self employment.
"We are also committed to working in partnership with employers to ensure that we are providing them and indeed all businesses with the skilled workforce that they need both today and in the future.
"This work is vital to address potential skills shortages, increase their competitive edge and achieve growth and job creation.
"I am also particularly pleased that the work we undertake to support higher needs learners as well as those who face wider challenges in their lives has been singled out for praise.
"Thanks to the work of our specialist teams, these learners progress successfully to high level courses, foundation degrees, supported internships, into work or onto adult courses.
"This shows that we are truly inclusive college with a positive learning environment that supports and nurtures learners from diverse backgrounds to increase their independence and achieve their learning goals.
"We are therefore providing a valuable service to businesses and our wider local communities alike throughout the city and county.
"We are justifiably proud of the findings of the Ofsted inspection and I thank all of our governors, staff, students and partner employers for their contribution to this success."
The experience and skills amongst the College's governing body was commended in the report.
Chair of Governors and Chartered Accountant Janet Morgan continued: "Our role is to monitor, scrutinise and challenge the educational performance of the College and I am delighted that this has been recognised by the inspection team.
"Mandie Stravino and her team have worked tirelessly on a vigorous action plan to turn the College around from one that 'required improvement' to now being among the top performing colleges in the country."
Other key findings in the report include:
– The good quality of careers information and guidance
– Good integration of English, Maths and Technology in lessons
– The quality and flexibility of adult learning with a curriculum that is responsive to the needs of the local economy
– Effective promotion of equality and diversity with high quality support for new communities such as Roma learners to 'prepare learners well for life in modern Britain'
– Learners feel safe at College with a good understanding of online safety and the dangers of radicalisation and extremism
– The increasing number of learners returning to College for Higher Education study programmes
The Ofsted report follows an inspection of Higher Education provision at Derby College last summer by the Quality Assurance Agency for Higher Education (QAA) which praised the quality of HE courses.