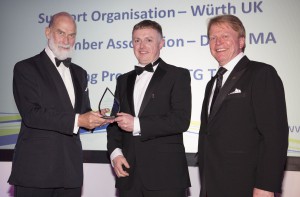 Derby College has been shortlisted for a national award by the motor vehicle repair industry body in recognition of its work to train young people and support local businesses.
The Institute of the Motor Industry (IMI) has this week announced the finalists for its prestigious Outstanding Achievers national award and Derby College is one of three training centres in the UK to make the shortlist.
The awards will be announced on October 20 and Derby College is up against Mercedes-Benz UK (Apprentice Academy & Technical Training Centre) and New College Lanarkshire for the Approved Centre award.
Derby College Motor Vehicle Team Manager Matthew Curtis said: "There are more than 600 IMI approved centres across the country so we have done extremely well to make the final shortlist for this award.
"It is in recognition of our extremely high standard of our teaching to develop the technicians of the future which has resulted in our pass rate being 16% above the national average as well as the work done to support the local motor industry.
"We have been an IMI approved centre for many years and have previously won the IMI Skillsmiles Recognition Award on three occasions for the work we do with the local motor industry but this is the first time we have been shortlisted for this very prestigious award that recognises our overall performance."
Steve Nash, CEO at the IMI, added: "Ranging from leading manufacturers to small independents, this year's finalists demonstrate the incredible talent that's needed in order to develop the sector.
"Each of the worthy finalists show admirable commitment to the motor industry and demonstrate the passion needed to succeed. I look forward to welcoming them all to this year's event."