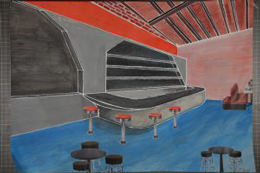 Art & Design students at Derby College's Joseph Wright Centre have devised a series of visuals to showcase a local charity's ambitious plans to refurbish a disused building into a centre for young people to be creative and active.
The Star Foundation have taken over an old maltings warehouse in Derby Road, Burton-on-Trent and plans to transform it into a gym, recording studio and performance space to be used by local school pupils and young people.
CEO and Founder of the Star Foundation, Pete Tryner, approached Derby College to recruit a team of Art & Design students to create visuals of the completed facilities which will be used in funding and grant applications.
Mr Tryner explained: "It is vital that we have visuals of our proposed facilities in the new building and we are very grateful to Derby College and Lecturer Pete Gardner for their support.
"As a charity whose foundations are embedded in recycling, volunteering and community support – we have been extremely fortunate to have a lot of the work, materials and expertise donated to us for this project.
"We have got quite a bit of work done already but there is still a long way to go. We will therefore be applying for funding and grants to pay for materials and then support from professional and trades people to complete our vision.
"The tie in with Derby College has been ideal and will hopefully continue with involvement of Construction students in building work as the project progresses.
"As an organisation, we encourage young people to be involved in their local communities and also provide volunteering opportunities to gain work experience.
"This project provides Derby College students with work experience that will help them in their future working lives and is helping us provide vital facilities for children and young people in this area – enabling them to be active and creative."
Derby College Lecturer Pete Gardner continued: "Our Art & Design students have been involved in a wide range of projects over the years from murals at an animal rescue centres to tactile wall art for dementia nursing homes.
"We were delighted to work with the Star Foundation who do a fantastic job in the local community and the students have gained some valuable skills by working on a live project that will positive benefit so many young people."
Deputy Principal for Employer and Economic Affairs April Hayhurst concluded: "All of our students have the opportunity to be involved in work experience and special projects to enhance their skills and boost their CVs.
"We are always keen to speak to the voluntary sector to see if our students' skills can support their work in local communities as part of our role to prepare individuals for the next phase of their lives and to contribute as positive citizens."