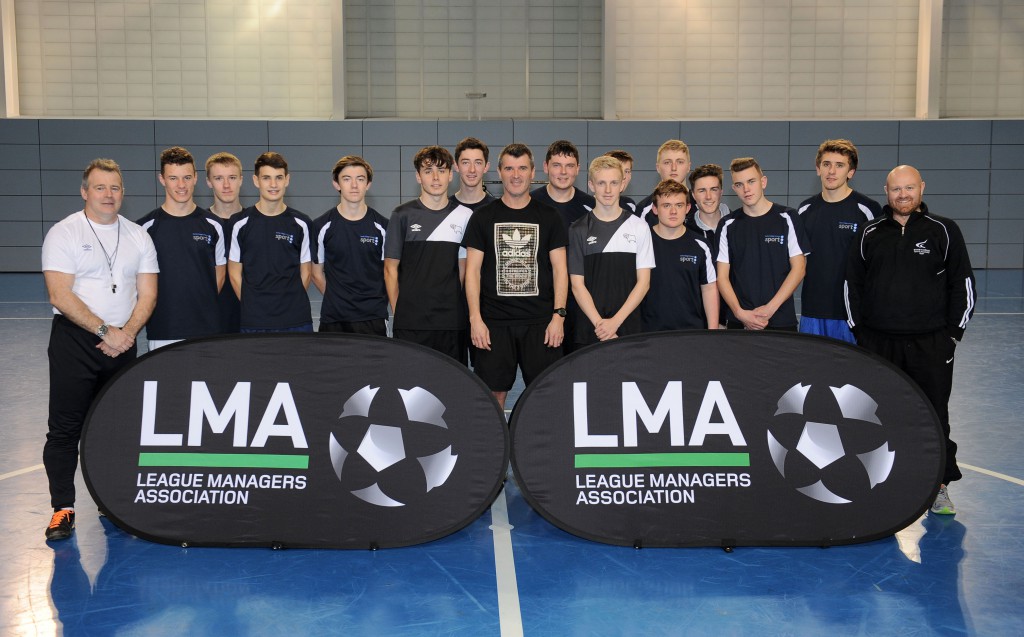 Derby College Sports students recently had the chance to learn coaching and football skills from football legend Roy Keane during a visit to St George's Park – the FA's national football training centre in Staffordshire.
The visit was organised by Burton-on-Trent based pharmaceutical company Clinigen Group as part of their partnership with the League Managers' Association (LMA).
Clinigen invited the Sports Coaching and Development Diploma students, based at Derby College's Broomfield Hall site in Morley, to tour St George's Park.
The students were then treated to a special football skills training session with former Manchester United legend Roy Keane. As a manager, Keane has managed Sunderland and Ipswich and is currently Assistant Manager of the Republic of Ireland national football team who recently qualified for Euro 2016.
Derby College Lecturer Kevin Bunting explained: "The day was a once in a lifetime opportunity for the students to learn from one of football's greatest players and coaches.
"Our students have their sights set on a wide range of careers in sports and this experience was invaluable for them to gain an insight into how top sports people are coached at an elite level."
Peter George, CEO of Clinigen Group and lifelong Manchester United fan said: "We are very proud to be able to help provide such talented young sportspeople with the opportunity to meet and to train with a footballing legend like Roy Keane.
"Clinigen has been a partner of the League Managers' Association since 2014 and it has been fantastic to be a part of the great work that they do to develop and inspire local students and clubs."
Matt Tribe (17) from Belper was amongst the group.  He said: "I am hoping to work in personal training or sports physiotherapy so it was incredible to see how someone like Roy Keane handles a coaching session.
"We were certainly put through our paces and the clear message that came out was that you need to be confident and give precise instructions and demonstrations during any coaching session.
"It was great to see the theory put into practice by such an iconic player, coach and manager."
Callum Edworthy (16) from Littleover, son of former Derby County player Marc Edworthy, added: "Roy Keane knows so much about the game that it was brilliant to see him in action.
"He was really relaxed and very witty which made the whole coaching session very enjoyable."
A full time Certificate in Sports Coaching and Development course starts at Derby College in February 2016.  For more information about this and all the full and part time courses please visit www.derby-college.ac.uk or call 0800 028 0289.