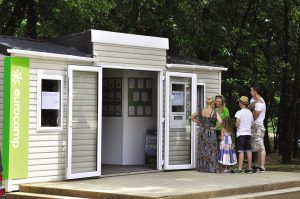 Derby College has become the third FE college in the UK to offer a special Travel and Tourism course that includes a six-month paid internship in France with Eurocamp.
The level three study programme will start this September and is available to young people who are aged 18 by March 2018.
Students will be based at the College's Roundhouse campus for the first six months before heading out to one of Eurocamp's family resorts in March 2018.
Derby College Travel and Tourism Lecturer Ruth Benn, who worked in the industry for 30 years before going into teaching, said: "This is a fantastic opportunity for our students and we are delighted to be launching the new study programme with Eurocamp this September.
"Employability is the primary focus for all of the Travel and Tourism and Aviation industry courses at the College and we support young people with the academic and softer skills that they need to progress into a career.
"We already have an extensive programme of work experience through our employer links including Capita Travel and Events and East Midlands Airport but the programme with Eurocamp will take this to another level.
"Resort holidays such as those offered by Eurocamp are an expanding market and offer a wide range of career and progression opportunities.
"Students who complete this overseas internship will therefore greatly increase their employability and will have a vast range of future career opportunities at their fingertips.
Louise Elsdon from Eurocamp continued: "The internship programme is extremely popular with schools and colleges in other European countries and we are expanding our reach in the UK working with colleges in Leeds, Newcastle-Under-Lyme and now Derby.
"Derby College has an excellent reputation in the travel and tourism industry and we look forward to welcoming the first students at our resorts next spring.
"We arrange and cover all the transport and accommodation and students are paid a fee during the internship.
"They will continue their training whilst working with us and will carry out various tasks in the resort including welcoming customers, providing local information, housekeeping and taking part in planning and organising activities."