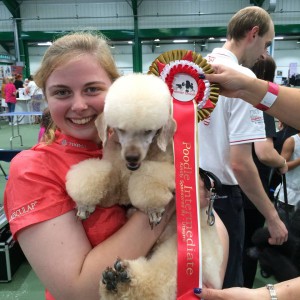 Derby College Dog Grooming apprentice Jessica Peggs (21) has scooped a top award in her first national competition.
Jessica, from Eastwood, is a former Derby College student and is now completing a level three apprenticeship at the College's dog grooming salon at Broomfield Hall in Morley.
She entered Premier Groom at Stoneleigh, which also went towards the practical element of her International Certified Master Grooming qualification, and came away with first prize in the intermediate class.
Derby College Dog Grooming lecturer Sue Oliver said: "This was Jessica's first competition and we are very proud of her success.
"She did a fantastic job of grooming Peanut the Miniature Poodle who is owned by a colleague at the College and also passed her grooming exam for the poodle trim with a score of 91%
"This now means Jessica only has written exams left to accomplish everything needed towards her becoming a recognised International Master Groomer."