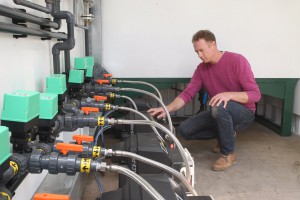 A wide range students at Derby College will be introduced to the far-reaching career opportunities available in the growing renewable energies industry thanks to an innovative partnership with two local businesses.
SASIE Ltd in Nottingham specialises in the development, installation and training within renewable energies and Lindhurst Engineering in Sutton in Ashfield has diversified from its success in fabrication and is now breaking new ground in Anaerobic Digestion systems.
Both companies will be organising site visits and master classes for Engineering, A level, Electrical, Plumbing and IT students based at Derby College's Roundhouse and Ilkeston campuses over the coming months.
Existing first year students and those enrolling at the College over the summer will then be invited to apply to become part of the SASIE & Lindhurst Renewable Energy Academy which will launch in September.
The Academy will be part of Derby College's Employer Academy programme which aims to boost students' employability skills and job prospects.
It also gives employers the opportunity to shape the College curriculum and reduce their costs for recruiting young people into job and apprenticeship roles after their College course.
Lindhurst Engineering managing director Martin Rigley explained: "We have secured Government and European funding to develop five test sites across Europe, including with the University of Nottingham, which will revolutionise the treatment of waste and convert the bio gas produced into electricity.
"Once we go to market for this technology, we envisage that at least 50 jobs will be created locally and these will include a large proportion of apprenticeships with a view to the future talent pipeline.
"Derby College has developed a great model with the Employer Academies and businesses need to be prepared to invest in young people to involve, invigorate them and show them the career opportunities available to them in this industry."
Mo Kelly, managing director of SASIE Engineering continued "We have also won European and National funding for the development of its own Renewable MonoEnergy solution for Low Temp District Heating.
"It is important to show the joined up approach required to make maximum use of renewable energies and our company will be introducing students to a wide range of systems including solar PV, solar thermal, heat pumps, Biomass and wind turbines.
"The industry is growing rapidly and it is therefore crucial that we work proactively with young people to ensure we have the skilled workforce in place to take advantage of the growth both in the UK and across the world.
"As installers and a training provider, we are looking to expand our workforce with apprenticeships and it makes sense to be working with Derby College students to engage with them as they embark on the next stage of their training."
Derby College Business Development Director April Hayhurst added: "We are very excited about the possibilities through the SASIE & Lindhurst Renewable Energy Academy.
"As a College, our mission is to work proactively with employers to ensure that the curriculum we have in place today will meet their needs in the future.
"Working alongside these two businesses at the cutting edge of a high growth industry will benefit both businesses and our students and we look forward to developing the special programme for Academy members over the coming months."
The SASIE & Lindhurst Renewable Energies Academy joins a range of other Employer Academies at Derby College:
– Atlas Building and Groundworks Academy: aimed at providing Construction students at the College with the multi-skills they need for the groundworks industry
– Cricket Derbyshire Hospitality Academy: which also provides Catering and Hospitality students at the College with potential for paid part time work
– Cricket Derbyshire Sports Academy: based at Derbyshire County Cricket Club: providing training and work experience opportunities for Sports students
– Derby Teaching Hospitals NHS Foundation Trust: aimed at broadening young people's career opportunities in healthcare.
– Derby Telegraph Media Sales Academy: giving Business students a unique insight into the demanding world of media sales
– epm:technology Advanced Composites Academy: introducing Engineering students to the rapidly expanding advanced composites manufacturing industry
– First Response Business and Finance Academy: recruiting students onto Degree Apprenticeships to help them grow their business.
– Hannells Estate Agency Academy: introducing Business students to the range of career opportunities within the profession
– HUUB Marketing and Product Development Academy: enabling Business students to be involved in Huub which is a growing company designing triathlon wetsuits for international markets
– MBS Construction Skills Academy: providing young people with the with the multi skills they will need in the changing construction industry.
– The Finesse Collection Professional Cookery Academy: with Catering and Hospitality students working alongside top chefs at the Cathedral Quarter Hotel, Donington Manor Hotel and at the host of events handled by the company's outdoor catering division – Finesse Hospitality.
– risual Microsoft Academy: working Microsoft's UK Country Partner of The Year 2015, risual Limited, to address a growing shortage of digital skills and bridge the gap between industry and education.
– risual Autodesk Academy at the Roundhouse: to upskill Professional Construction and Engineering teachers and students in the latest Building Information Modelling (BIM) technology software.