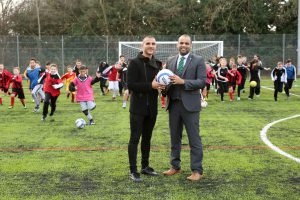 Former Rams striker Marcus Tudgay returned to his former school Merrill Academy to officially open a new floodlit all-weather football pitch.
The footballer, who currently plays for Coventry City, met students, staff and partners involved in the project and even showed off some of his skills to pupils from Allenton Primary School who were taking part in a mini-tournament organised by Merrill students as part of their Young Sports Leaders programme.
Merrill Academy was re-built under a £15 million PFI programme, opening the new building in September 2006.
The new football pitch is a continuation of the programme delivered by Derby School Solutions Ltd who are PFI partners with Derby City Council, Vinci Facilities and the Academy.
Merrill Academy Head Marcus Shepherd explained: "The 3G surface pitch is similar to those installed at professional football clubs and training centres and replaces the old sand-based surface.
"It is therefore a fantastic addition to the Academy.  It ensure that we have the best sporting facilities for our students and for the local communities including our feeder primary schools and Allenton Football Club.
"We are thrilled that Marcus Tudgay, who is a former pupil here, agreed to officially open the new facilities and the students were very excited about meeting him."
Marcus Tudgay continued: "I have only been back to Merrill a couple of times since I left and I can't believe how the school looks now with some great facilities for the students."
A spokesperson for Derby School Solutions Limited added: "We are delighted to have helped progress and fully fund the installation of the 3G all weather pitch.
"We are pleased that so many young people at Merrill Academy and the local community will be able to use this marvellous facility. It will be a very welcome addition to the already impressive facilities Merrill has."
Chris Reeves, Operations Director at VINCI Facilities who installed the pitch, concluded: "This new all-weather pitch at Merrill Academy which is designed to FA standards will provide a first class resource for use by students, as well as the wider community, for years to come.
"Across all of the schools we manage in the Derby area, VINCI Facilities strive to create and maintain outstanding educational facilities as well as supporting and providing employment opportunities in the local communities. The new pitch at Merrill Academy makes a strong contribution towards this."
Approved community groups who wish to book the facilities should contact ALM lettings who manage Vinci facilities on behalf of the Academy and Vinci Facilities Management, who are responsible for the buildings and grounds at Merrill Academy.
They can be contacted via email at: info@almsports.co.uk or telephone on: 08456 430 717.