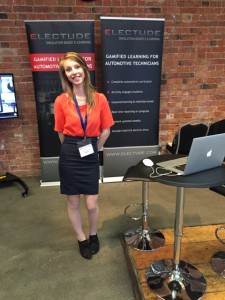 A former Derby College Motor Vehicle apprentice has delivered a keynote speech at an international conference – highlighting the initiatives needed to encourage more women and girls into the industry.
Catherine Treanor (22) from Duffield studied at the College as part of her Motor Vehicle apprenticeship at Station Garage in Belper.
She then worked for VW in Derby for nearly a year before being appointed as a Business Development Manager with Electude UK.  The company is world's leading automotive e-learning provider and works with Colleges across the UK to equip them with the techniques, tools and training to support students.
She was invited to address the North American Council of Automotive Teachers in Pasadena, Texas, recently – sharing her own experiences of an apprenticeship and recommending how they could recruit more females into the industry.
During her time at College Catherine won a College Peak Award and was highly commended in the Institute of the Motor Industry (IMI) Outstanding Achievers Award.  She also represented the College at various events to encourage more females into the industry and completed work experience in Germany as part of Derby College's European work exchange programme.
Catherine said: "My experiences at Derby College gave me the confidence not only to progress in my career but to develop my public speaking skills and I would love to do more of this.
"The audience were very interested in the apprenticeship route which they don't have in the USA and were very engaged with some of my suggestions, including providing female students with additional workshop time, clustering females in groups from different male-dominated courses and better promoting success stories."
Derby College Motor Vehicle Team Leader Matthew Curtis added: "Cat was one of our outstanding students and we were delighted that her career is going from strength to strength.
"She has embraced the opportunities open to her both when she was at College and now in her career and is a fantastic role model for male and female students in the Motor Vehicle department at the College."