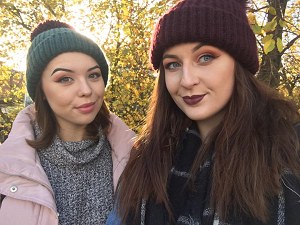 Two former A-level students at Derby College's Joseph Wright Centre are busy raising money to fund a trip to Fiji where they will be taking part in an environment project to improve the lives of local people.
Amelia Sutcliffe (18) from Alfreton (pictured right) and Yasmin Crofts (19) from Riddings (pictured left) are both now studying Law at the University of Lincoln after attending Derby College together.
They will be joining the 15-day community project organised by Volunteer Eco Students Abroad this July where they will join other volunteers to teach English and basic sanitation, renovate buildings, build a playground and construct bathrooms and water catchment tanks in a village in Fiji.
Amelia said: "This is an amazing opportunity and we are both looking forward to the trip to Fiji.
"We need to raise around £2,000 to fund our involvement in the project and have so far had a good response from individuals and businesses which is very encouraging."
To support Amelia and Yasmin, please visit https://www.gofundme.com/amelias-fiji-adventure https://www.gofundme.com/my-fiji-volunteering