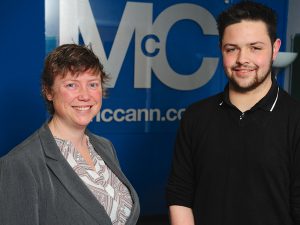 The country's largest supplier and manufacturer of precast concrete solutions is broadening its skills base by taking on Derby College apprentices.
Rapidly expanding FP McCann employs around 120 people at its Weston Underwood site and has tripled in size since 2010. Currently it employs more than 1,300 staff at 12 sites in the UK and Northern Ireland.
HR officer Claire May said FP McCann opened its Weston Underwood site three and a half years ago and quickly began forging links with Derby College.
Now the company has nine apprentices from Derby College on site, six in professional construction, one in business administration and two in electrotechnology. It is looking to recruit two further professional construction apprentices, two mechanical maintenance apprentices and four CAD apprentices.
The most recent arrival is 19-year-old Jayce Smith from Kirk Hallam, who has switched from the college's full-time Level Three Professional Construction course. As a professional construction apprentice, he now works four days a week on site and studies one day a week at college.
Claire said: "The college recommended Jayce to us, he had an interview and we were keen to take him on. As a company, we are expanding very quickly and as part of that we want to include apprentices, graduates and placements wherever we can.
"In manufacturing and civil engineering, there aren't huge amounts of people on those types of courses, and we want to attract as many of those who are doing them as possible."
She described the college's professional construction course as "varied, with many potential pathways" and said the company aimed to complement the variety on the course by being flexible.
"We aim to help apprentices move into whichever areas suit their skills – such as contracts, CAD design or quantity surveying," Claire said.
On his first day with the business Jayce, whose father is a joiner, said he would "like to have a crack at anything the company offers." He added: "I particularly enjoy design procedures and creating things, as well as problem solving."
FP McCann is continuing to strengthen its links with Derby College.
Claire said the company attended The Roundhouse for Derby College's Apprenticeship Ready event at the end of January and it intends to be present at the next one in March. The business is also interested in becoming involved with Derby College's Professional Construction and Employment Skills Academy. The Academy is made up of local and regional businesses which specialise in all aspects of professional construction.
Academy members feedback their views to Derby College on curriculum design and the industry's future education training requirements. They also aim to provide work placements, visits, projects, mock interviews and specialist lectures for learners and apprentices on the full and part-time professional construction study programmes.
Claire said: "Having close ties with the college is so important as we can work together for the best outcomes."
"I'd say the greatest part of my time is spent working on apprenticeships. It's good to see them growing as people and in their careers. It's very rewarding."