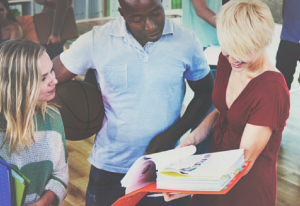 Here at Derby College we believe that you should never stop learning, no matter what stage you are in your career. Whether you want to learn new skills to get that promotion, change your career completely or start something new, a Higher Education qualification can open a lot of doors. However, we also know that returning to education after a break, no matter how long, can be a daunting prospect. But it doesn't have to be. We want to give you the knowledge and tools to make the right decision for you and take the first step into education.
Access Courses
If it's been a while since you've been in a classroom and want to regain essential study skills such as research and essay writing, or if you left school without the qualifications you need to apply for a higher education course, you need our Access to Higher Education Diploma. Most UK universities accept this qualification as an alternative to traditional A Levels, and you can study for this qualification full time or part time at Derby College. If you think an access course is what you need to kick start your education, find out more here.
Higher Education
There are so many courses an offer that are equivalent to a university-level degree that don't come with the university-level price tag. With the convenience of studying in your area and fitting your studies around your family or current job, it's never been easier to plan your future. We offer a range of subject areas from HNC/Ds and foundation degrees through to ordinary, honours and postgraduate programmes. Start exploring our courses now.
Leisure Courses
Education doesn't have to be about climbing the career ladder, either. You can take an Adult Learning course in almost any subject you are passionate about. From language to horticulture, art and design to music and even DIY. Doing a course based on your hobby is a great way to get back into education because you're learning just for you rather than an exam board and provide a fun social environment for learners of any age looking to enhance their repertoire. Find out more about leisure courses at Derby College here.
Feeling inspired? We'd love to talk to you in person and give you the chance to try out some of our wonderful courses. Our open days are a great way to get all of the information you need to get back into education. See our calendar of open days here.