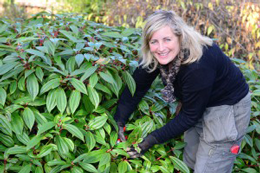 Derby College's Broomfield Hall has secured a £4,000 grant to further improve the campus grounds and boost its appeal as a visitor attraction.
The support from the Stanley Smith (UK) Horticultural Trust will enable the horticulture team at Broomfield to help restore the Victorian gardens to their former glory – buying new plants, shrubs and semi mature trees.
Derby College Head Gardener Samantha Harvey explained: "We are extremely grateful to the Stanley Smith (UK) Horticultural Trust for this financial support.
"The money will be used for increasing the diversity of plants in the gardens and also for creating a new Rose Garden at Broomfield.
"We have already started clearing the area ready for planting to commence thanks to the hard work of the Horticulture students here and local volunteers.
"The long-term plan is to apply to be an RHS partner garden and to be included in their catalogue of 'Inspiring gardens to visit'.
"This would expand our appeal as a visitor attraction and generate funds which we can reinvest into the further development of the gardens and towards future project.
"Our ultimate aim is to be recognised as one of the top educational horticultural facilities available in the Midlands."
Dr David Rae, director of the Stanley Smith (UK) Horticultural Trust said: "We are delighted to support Derby College's plans.
"The Trust provides funds available in support of horticultural education and to assist the creation, development, preservation and maintenance of gardens accessible to the public.
"We were fascinated to hear about the plans at Broomfield Hall and look forward to updates on the progress made."