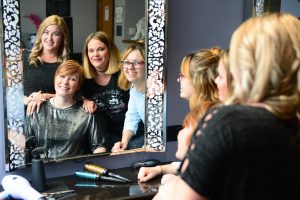 Oakwood hair salon Hair Angels is set to give more Derby College hairdressing students a head start this year as it welcomes its next intake of new learners.
For many years the salon has been actively providing students with work experience and job opportunities, as well as contributing to the College's curriculum by delivering hair masterclasses.
Hair Angels is jointly owned by Heather Edwards and Holly Clarke who is vice chair of the Derby College Hair and Beauty Employment and Skills Academy Board.
Holly said: "I'm really excited about being involved with Derby College again in this new academic year.
"The skills academy is going from strength to strength. Being able to have a real influence on students and make sure they get an insight into what employers are looking for is really valuable.
"It's also good to be giving students knowledge about becoming self-employed as this is often a successful career route into our industry."
Over the past 12 months Hair Angels has provided work experience to six Derby College students including a study exchange hairdressing student from Estonia.
Among the young learners currently benefitting from the skills and knowledge of its team is 17-year-old Kirstie Peel from Chaddesden.
Kirstie, who has just started her level 3 course at the Roundhouse, works at the salon on Wednesdays and Saturdays, and loves it.
She said: "When I first started my work experience I wasn't confident about speaking to clients but since coming to Hair Angels ls I've really come out of myself.
"The other girls have been so supportive in giving me the confidence and skills I need. I'm finding it easier every day."
Hair Angels' stylists Keri Tiochta and Eleesha Hoult both went to Derby College and appreciate the work experience the salon gave them in securing their own employment.
Self-employed Keri, who is 29 and from Spondon, completed her level 3 course in 2016 and works part-time.
She added: "I'm so grateful for the real work experience Hair Angels gave me during my course.  It's led to my dream job."
Eleesha, who is also 29 and lives in Chaddesden, trained several years ago at the college's former Mackworth campus. She too welcomes the chance to help young people like Kirstie make their way in hairdressing.
She said; "Being able to transfer my experience and skills to people who are keen to work in the industry is an absolute pleasure and I'm looking forward to working with our new students."