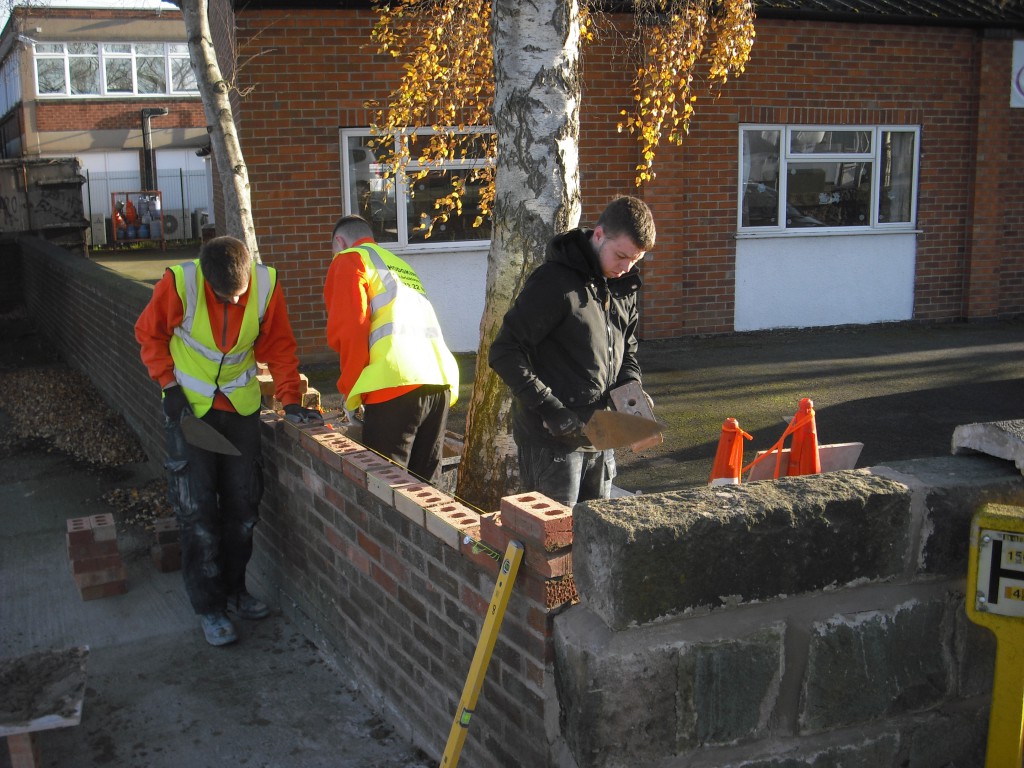 Students on the Hodgkinson Brickwork Academy at Derby College's Ilkeston campus have come to the aid of a local scout group after their front wall was knocked down.
1st Chilwell and Attenborough Scout Group contacted the Academy after a car collided with the wall in front of their scout hall carpark in Attenborough Lane.
Beaver Scout Leader Clare Woodroff explained: "The accident damaged part of the brick and dry stone wall in front of the hall. Claiming off insurance companies was turning into a long and expensive affair with all sorts of consequences for our future insurance premiums.
"Our only alternative was to dip into funds or raise money to get the wall re-built so we got in touch with Ian Hodgkinson to see if he could help.
"The students did a brilliant job – coming over three days to complete the re-build.  We are extremely grateful for their support and wish them every success in their future careers as bricklayers."
Ian Hodgkinson continued: "As part of the Academy programme, students undertake a wide range of work placements with us and we are particularly keen to get them involved with projects that benefit the local community.
"Work such as this helps the students to put the skills they learn at College into practice on a live project and improves their communication and customer service skills."
The Hodgkinson Brickwork Academy was the first to be set up with Derby College with students benefiting from master classes, work experience, additional qualifications and a guaranteed interview at the end of the programme for a potential apprenticeship with the Derby-based company.
Further Employer Academies have since been launched with a wide range of local businesses and organisations to ease students' transition from education to the workplace.  These include Atlas Groundworks, epm:technology, Derby Telegraph, Finesse Collection, Derbyshire County Cricket Club, Derby Teaching Hospitals NHS Foundation Trust, Huub Design, First Response Finance, MBS Construction, iBox Security and Risual.
The College is keen to hear from other community projects requiring construction support.  Please contact debbie.keegan@derby-college.ac.uk
There are a wide range of Employer Academies available for existing and future students at the College including A level, Business, Construction, Engineering, IT, Health and Social Care, Catering & Hospital and Sport. For more information about applying for courses and the Employer Academy programme, please call 0800 028 0289 or visit www.derby-college.ac.uk