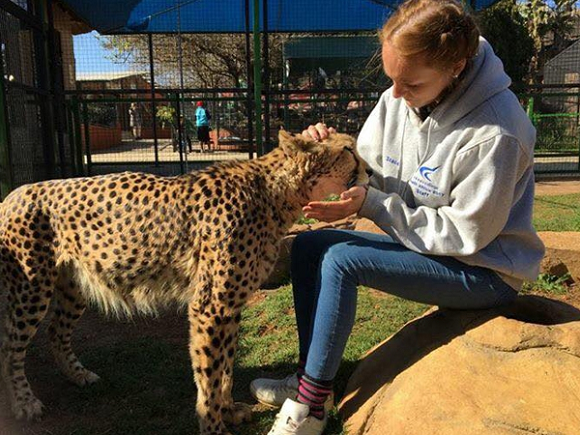 An Animal Care lecturer at Derby College's Broomfield Hall has won international recognition for her pioneering research into the benefits of human-animal interactions with cheetahs.
Stacey Higgs (27) from Nottingham applied to the recent World Academy Science, Engineering and Technology conference held in Singapore for permission to present her MA Anthrozoology dissertation on the controversial subject.
Her presentation was judged to be the best by a panel of experts and her work has now been published in the International Journal of Animal and Veterinary Sciences.
Stacey advocated through her research that the growing trend for human-animal interactions with cheetahs has the potential to be a positive move for zoological establishments, but that lessons needed to be learnt to improve the experience for the animals, visitors and zoological establishment.
She said: "Having volunteered and worked at zoos and game reserves in South Africa for the past eleven years I focused my 20,000-word dissertation on the growth of human-animal interactions, concentrating on the cheetah.
"There are many good and bad examples of zoos giving visitors the chance to interact with animals and a growing recognition that recreation is just as important as conservation, education and research.
"Instead of just getting close to a cheetah and taking a 'selfie' which is increasingly common in human-animal interactions, we need to see this as an opportunity to educate people properly about these wonderful animals."
"There have been some fatal incidents in the past with big cats being used during human-animal interactions, with a clear emphasis now that these interactions worldwide need to be regulated further.
"The key message in my dissertation, and then presentation, was that zoos are here to stay and therefore more needs to be done to improve human-animal interactions and make them purposeful and positive for both participants.
Stacey is now planning to take her research further alongside teaching further and higher education students at Broomfield Hall.
The subject is also part of the College study trip that she organises for Animal Care students to South Africa every year, with the next group heading there this July.
Click here to read Stacey's published dissertation.