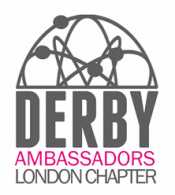 The London Chapter of Derby Ambassadors Club is a group of individuals who are primarily based in London but have an ongoing affiliation with Derby.
Its overall aim is therefore to create contacts and leads that drive investment into Derby.
Members will be invited to three gatherings per year which will partly serve a social and networking purpose, and partly be an opportunity to get up to speed on developments in Derby, including how members might help.
To join the chapter we would appreciate if you could complete the following
More about you (Please circle as appropriate)
Name:
Position:
Organisation:
Email:
Mobile:
Do you work in London?
Yes
Occasionally
No
Do you live in Greater London?
Yes
Partly
No
What's your connection with Derby? (Please tick all that apply)
Born
School
University
Work
DCFC
Other (Please Specify)
Thank you; we will be sending out invitations to our first event very soon.
David Boutcher
Chair
London Chapter of Derby Ambassadors
Please return the answers to the questions above to: georgina.staley@marketingderby.co.uk