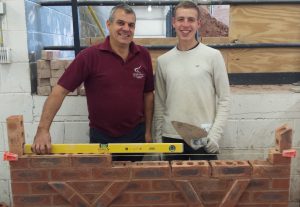 A former Construction apprentice at Derby College will take part in a national skills competition this month with his sights set on qualifying for the UK team.
Jordan Richards (20) from Awsworth won a place in the three-day UK Skillbuild final at Birmingham's NEC National Skills Show (Thursday November 17 to 19) after representing the College in the regional competition earlier this year.
He will compete against students and apprentices from colleges throughout the UK in an intricate brickwork challenge to test accuracy, creativity and time management.
Competition winners are then potentially invited to join the UK Skillbuild team which trains for forthcoming international competitions around the world.
Jordan, who works for Derby-based construction company CJ Goodwin, is no stranger to the competition circuit.  He has won several titles at junior and senior levels including a gold medal in the Guild of Bricklayers national competition earlier this year.
Jordan joined Derby College when he was 16 as a full time student at the Ilkeston campus and then served his apprenticeship with GF Tomlinson – attending College on day release.
He recently took a full-time job as a bricklayer with CJ Goodwin and has been returning to College regularly to practice his skills.
Jordan said: "I really enjoy competitions as it is an opportunity to test your skills and challenge yourself.
"From the tools we have been told to take with us to the Skillbuild national final and looking at the challenges set in previous competitions, we reckon there will be all the key elements in the brickwork including angles, an arch and curves.
"I will be nervous at the start but I quickly get in my stride and all I can do is my best."
Derby College Construction Lecturer Geoffrey Grace has been mentoring Jordan through his preparation for the prestigious competition.
He said: "Derby College has an excellent track record with previous apprentices winning national titles and progressing onto the UK skills squad including last year's finalist from Derby College – Zack Lysaczenko.
"We hope that Jordan will do just as well and fly the flag both for his company and for the College. He is very talented and all he has to do is keep his nerve throughout the three-day challenge."