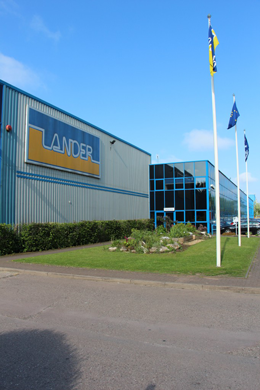 A West Midlands automotive engineering company is launching a major recruitment drive to employ more than 180 young people in apprenticeship roles over the next two years.
Lander Automotive based at Woodgate Business Park near Halesowen manufactures a range of products for the automotive industry.
Over the years, this has evolved from the core competences of tube manipulation, welding and assembly and now includes full seat metal structures, fluid pipes and cooling system pipes, airbag pipes and airbag canisters along with instrument panel cross car beams and chassis components for car manufacturers including Jaguar, Land Rover and Nissan.
The company currently employs 400 people at its purpose-built engineering plant and is expanding and upskilling the workforce with the recruitment of Lean Manufacturing Semi Skilled level two apprentices.  The apprenticeship programme will run alongside a bespoke Adult Apprenticeship skills programmes for existing staff.
Lander Automotive are working in partnership with leading workforce development and lean implementation specialists Sigma Group and the apprenticeship division of Derby College.
Sigma and Derby College will design, implement and manage the entire programme as a new innovative manpower and skills solution for Lander Automotive.
Applications for the apprenticeship posts are available on the National Apprenticeship Service vacancy matching website www.apprenticeshipvacancymatchingservice.lsc.gov.uk.
Applicants will be invited to a day-long assessment centre and the first 15 successful candidates will start work this July.
Sigma Group have designed an eight-week single scheme of work that will deliver the required technical under-pinning knowledge as part of the apprenticeship framework.
Running alongside the technical delivery will be a bespoke designed Simulated Work Environment workshop that will introduce the apprentices to the culture, practices and components that Lander manufacture.
The eight-week single scheme of work will educate, plan and prepare the apprentices for life in Lander's production environment, all designed with Lander's operations team, ensuring the whole programme is commodity relevant and will impact business results.
Lander Automotive Operations Director Len Palmer explained: "Growing the business through the apprenticeship route will regenerate our workforce, bring some fresh blood into the business and address future skills shortages.
"With an expanding worldwide order book, we have teamed up with Sigma Group to grow and develop our workforce and are keen to source this future talent from the local community.
"This area is traditionally rooted in the automotive industry and I am sure that many of the young people applying for apprenticeship roles with us will have a family history of working in this field and therefore a good understanding of the extensive career opportunities available to them.
"We are looking for at least 180 young people to join the company over the next two years.  Their apprenticeship will initially be for 12 months and they will then have the opportunity to progress onto an 18 month second year apprenticeship expanding the lean manufacturing and skills for operational excellence.
"Our aim is to have a multi-skilled workforce who have the capabilities to further develop the business in this area – creating even more job opportunities in the local community."
Sigma Group CEO Brendan Hand added "We are delighted with the partnership we have created with the entire team at Lander.
"They are already an outstanding, high quality manufacturer of world class products and this skills initiative will ensure they transfer knowledge, develop a true talent pipeline whilst increase productivity and efficiency by getting the entire business to deliver new results.
"Most companies get stuck in the noise of today and don't have the ability to stop and do something about the crisis that exists in manufacturing skills.  They then look up at the next three or four years and the increasing manpower costs within the UK, through minimum wage increase, cost of living, pensions etc. which attacks the competitive position whilst skills are also diminishing within UK manufacturing.
"Lander is a forward thinking company and have a clear vision of what they, their shareholders, customers and employees need to be competitive in the market and I know this will be an outstanding success for everyone involved.
"Sigma, with our customers and college partners, have designed new manpower and skills solutions and created over a 1,000 jobs for young people as level two Lean Manufacturing Operators and in excess of 1,500 core worker apprenticeships all through utilising the apprenticeship frameworks that fund our model.
"This will be the first manufacturing skills Academy in the area, based at Lander for the community and the employees will be a bench mark for the area, so I would encourage anyone that wants a career in manufacturing with a great company to come along to the recruitment events and start a new future with Lander."
Derby College is one of the region's leading provider of apprenticeships and work with a wide range of employers to develop sector-specific training programmes and qualifications to address their recruitment needs.
Derby College Business Development Director April Hayhurst concluded: "A growing number of tier one engineering and manufacturing companies are increasingly recognising that large scale apprenticeship programmes are the ideal route for them to achieve business growth and tackle skills shortages.
"This will be a bespoke apprenticeship programme geared to the multi-skilled workforce that Lander require.
"Lander has also shown the foresight to develop their programme ahead of the introduction of the Government's apprenticeship levy which is earmarked for Spring 2017."