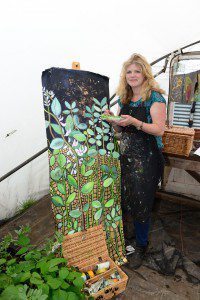 Derbyshire artist Victoria Brown has returned to Derby College's Little Explorers Nursery at Broomfield Hall to show the pre-school children how their work helped earn her a top award at the recent RHS Tatton Park Show.
The Bean Project is part of the United Nations 2016 Year of the Pulse and has involved Victoria and the children planting beans at Broomfield Hall and two local primary schools – Dale Primary School and Weston-on-Trent Primary School.
The children's work and the 90 acre bean crop planted at the nearby Locko Estate was the inspiration for a new series of paintings by Victoria entitled 'The Bean Scrolls' which celebrates the land, plant growth and the production of nutritious food to feed an ever growing world population.
Having planted the seeds, the beans were tended by staff and children who were then joined by Victoria for weekly creative workshops where they drew, painted, sculpted and photographed the plants with some of their work being included in Victoria's exhibition.
Victoria's exhibition earned her the top highly commended award in the Show Feature category at RHS Tatton Park.
Kate Cox, Manager at Little Explorers Nursery, which was Derbyshire's first Forest School with much of the day spent exploring and learning outdoors, said: "This has been a fascinating project and we were delighted that Victoria came back to show the children and their families the winning exhibition.
"One of the poly tunnels at Broomfield Hall has been a pop up studio for the creative work and was the setting for setting up the exhibit for the day."
Victoria has worked as an artist for ten years following a career in teaching and education.
She explained: "This project has built on my passion for the natural world and I was keen to bring together art and agriculture to highlight the miracle of nature, growing food and our dependency upon it.
"My husband is a farmer so I know only too well the realities of arable farming and our dependency upon soil, climate, politics and global economic influences. Within these challenges the wonders of growing can easily be overlooked and taken for granted.
"Through the project, I aimed to celebrate the bean crop and highlight issues faced feeding the world, the project will start with the planting of a bean crop on the farm this spring.
"All the children engaged brilliantly throughout the project and were fascinated to see the final exhibit."