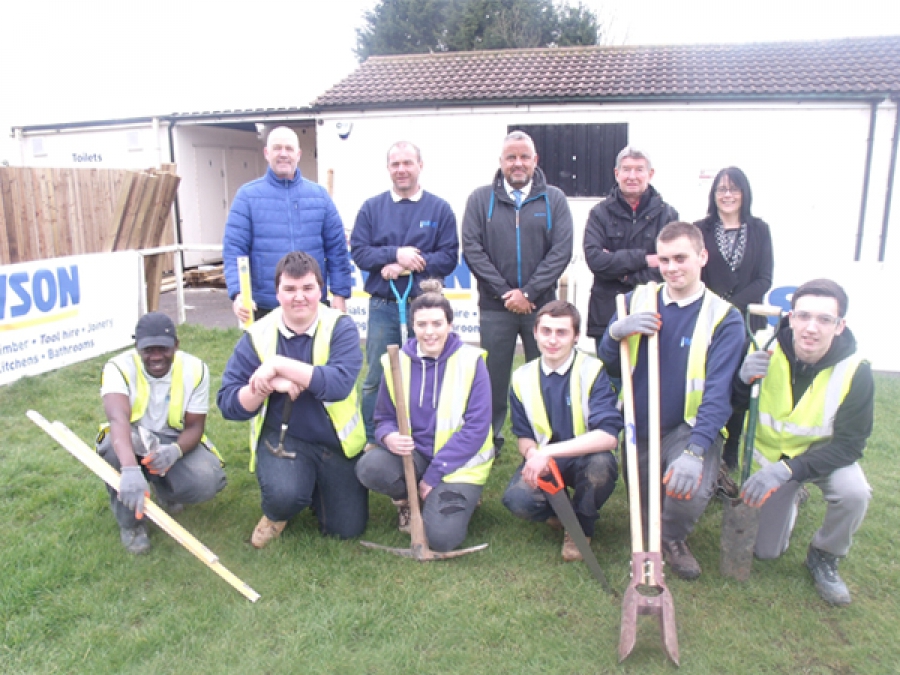 Apprentice hopefuls at Derby College have come to the aid of a local football club.
The Brickwork, Joinery and Plumbing students are all members of the MBS Construction Skills Academy at Derby College led by Derby-based construction company MBS.
They are spending two days a week at Borrowash Victoria football club who have been instructed by the Football Association to make ground improvements in order to qualify for next year's FA Cup and Vase.
The students all have their sights set on apprenticeships at the end of their full-time College courses. To gain work experience, they are working alongside MBS to construct 170 metres of fencing, a 40 metre paved area and re-building a wall at the ground.
Borrowash Victoria vice-chairman Ian Anderson said: "We are very grateful to MBS and Derby College for coming to our aid – they are life savers.
"The FA have told us that this work needs doing by the end of March to be able to qualify for these important competitions next season.
"We rely on gate returns as well as business and individual support to keep the junior and senior clubs going so it is vital that the work is completed."
Adam Stevenson, managing director of MBS continued: "We are based next to Anderson Electrical in Alfreton Road and were keen to support Ian's great work with Borrowash Victoria.
"This was the perfect project to give members of the MBS Construction Skills Academy work experience that they need to secure a job or apprenticeship after College.
"Learning skills in a workshop is great but nothing beats being on site doing a real job for a customer – working in all weathers.
"The students are doing a great job and have a fantastic work ethic.
"We are particularly grateful for the support of Jewson in Derby who have provided many of the materials and tools for the job."
Jewson Manager Gavin Moody concluded: "This is a great community project and in line with our own scheme to encourage young people into the construction trade. We hope that it will be the start of a partnership between ourselves and Derby College to inspire the tradespeople of the future."
The MBS Construction Skills Academy is part of the Derby College Employer Academy programme and is designed specifically to provide young people with the multi skills they will need in the changing construction industry.
Ten students on a number of construction courses including brickwork, joinery, plastering, electrical and plumbing are currently on the programme.
As well as completing work experience placements, they are having specialist tutorials with the MBS team and will have a guaranteed interview for apprenticeships at the company at the end of their course.
Mr Stevenson explained the reason behind teaming up with Derby College to launch the Academy.
"In the residential building sector and the commercial maintenance industry, we need multi-skilled tradesmen who have the knowledge and appreciation of the requirements of each element of construction.
"This means that they work together more effectively and efficiently on site to get a job completed on time and within budget.
"The demand for maintenance operatives or multiskilled tradesmen, is growing rapidly in the construction industry and our Academy will therefore concentrate on providing young people with broad skills that will be invaluable in their working lives.
"We are a growing company and are looking to take on up to five apprentices a year. I hope that the Derby College students will be first in the queue for these jobs in the future and I relish the opportunity to help to mould these young people into the local workforce of the future."
Among the students on the programme is Katie Hicks from Chaddesden. Katie originally studied Childcare at the College after leaving school. After labouring for a construction company last summer, she transferred onto the Brickwork course at Derby College's Construction Academy in Pride Park.
She said: "I love being outdoors and every day is different. I joined the Academy to get work experience on my CV. I hope that this will lead to an apprenticeship with MBS or another construction company."
Joinery student Joel Orton  also from Chaddesden said: "I jumped at the chance to join the Academy as I knew it would improve my chances of a job after College. This is a great chance to work on a real job on site rather than just in the workshop at College."
And Plumbing student Liam Wetton from Normatnon added: "I wanted to work on this project to learn more about brickwork and joinery skills. On site it's important to know how the other trades work and how your job needs to fit in with all the other aspects of construction so this is great experience as part of my plumbing course."
Derby College Business Development Director April Hayhurst added: "Construction is a growth industry and a D2N2 priority.
"The work experience that the students will gain through this project will be invaluable to improve their customer and communication skills and utilise what they have learnt at College in a real work situation."
For more information on the MBS Construction Skills Academy please call our Business Development team on 01332 334826.
For more information on MBS visit http://www.mbsderby.com