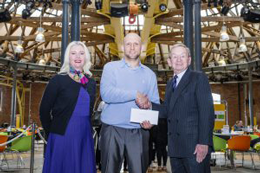 A mature learner at Derby College has reached the national finals of the Skillbuild competition which will be held at Birmingham's NEC in November (16 – 18).
Haralds Jonans (37) from Chaddesden is originally from Latvia. He is one of more than 20 deaf learners who attend Derby College – supported by signers in the workshop and in lessons.
He and his young family have been in the UK for seven years and moved to Derby five years ago. Having had various temporary jobs, he returned to Derby College to train to be a plasterer.
With top grades in the level one and two qualifications and several competition medals under his belt, he is now studying on the level three Plastering programme.
He is also working self-employed – boosted by a £1,000 bursary from construction company Bowmer & Kirkland who support a Construction student every year with their future career plans.
Haralds was amongst a group of Construction students, based at Derby College's Construction Academy at the Roundhouse, who won their largest tally of medals in the regional Skillbuild Brickwork, Painting and Decorating, Joinery and Plastering competitions held recently at Leicester College.
He follows in the footsteps to national Skillbuild of previous Derby College apprentices Zack Lysaczenko and Jordan Richards who scored highly in the national Brickwork Skillbuild competitions in the past two years.
Plastering lecturer Jim Tankard said: "Haralds is one of the best Plastering students we have had at College and we are confident that he will do well in the three-day competition.
"The challenge is not unveiled until the day but we think it will involve hard wall and skimming and then making and erecting complicated moulds.
"Haralds' particular strength is his meticulous preparation which particularly impressed the judges in the regional finals and he is coming into College for extra days and training hard to hone his skills before the national Skillbuild in Birmingham."
Head of Construction Tracey Hutchinson concluded: "Haralds is an inspiration man who has not let his hearing impairment stand in the way of his ambitions to come to this country, retrain and provide for his growing family.
"He is a wonderful role model for young people and other mature learners. He has embraced the support available to him here and developed his plastering skills to a very high level."