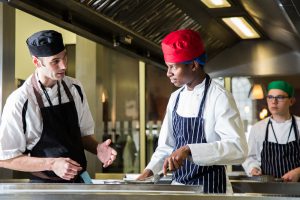 Derby College has appointed Mark Hadfield as Head Chef of commercial operations at the Engine Shed restaurant at the Roundhouse campus in Pride Park.
Mark learnt his trade at Wilmorton College, which is now part of Derby College, and has since worked in a wide range of fine dining restaurants.
He leads the graduate and apprentice team who staff the Engine Shed restaurant that is open to the public on Friday and Saturday evenings and on Sunday lunchtimes.
Mark is developing a menu of British and European food with a contemporary twist that will regularly change to reflect seasonal produce.
He explained: "I loved my time at the College as a student and was blown away when I saw the facilities and the potential at the Engine Shed restaurant at the Roundhouse.
"Having started my career working in the previous College training restaurant, I felt that now was the right time to put something back into the industry and help to train the chefs of the future.
"With nine years at Darleys under my belt, I was looking for a new challenge and I am really looking forward to putting the Engine Shed on the hospitality map in the city.
"We have a lovely restaurant in an iconic building with free parking and easy access to buses, trains and taxis so it is a safe and family-friendly alternative to city centre or out of town establishments.
"We also only have one sitting per evening and lunchtime – so customers can sit back and relax without being pressurised to make way for the next diners wanting the table."
Mark continued: "We are focusing on relaxed and informal cuisine – serving only freshly prepared dishes that give British and European dishes a modern twist at reasonable prices.
"As a father myself, I am particularly keen to welcome families to the restaurant to enable younger customers to enjoy smaller versions of the menu classics and encourage them to develop their love of good food."
Derby College Team Manager Sue Sharratt continued: "We are delighted that Mark has joined us – especially as he is a former student who has already made his mark on the hospitality industry.
"The Engine Shed is a popular venue for diners, functions and weddings but there is huge scope to develop our commercial operations and weekend service.
"The teaching staff and full time students will be working in the restaurant for lunchtime service during the week and Mark's team of graduates and apprentices will then take over the helm at the weekends.
"This therefore provides the best of all worlds – training opportunities for young people and high quality but affordable service to customers."