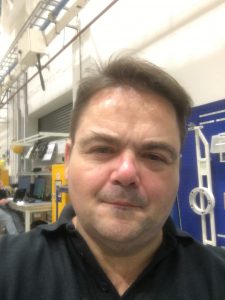 Peter Grant did an Adult Apprenticeship with Derby College and Rolls-Royce. Now an Engine Fitter with Rolls-Royce, Peter spoke to our ALumni Team about his experiences of returning to the classroom as a mature student and what the opportunity has meant for him. 
"I worked as everything from a barman to a forklift driver before I went to Derby College and now I'm building aero engines. It's been such a turnaround in my life – but one that I've earned," said Peter. 
"I did an adult apprenticeship and knew that I wanted to be an Engine Fitter. The staff at Derby College gave me the mindset I needed to succeed in the field I now work in. 
"Completing the apprenticeship has been the proudest moment of my career," he said. "At the time I was 48 years old and hadn't been in a classroom for over 34 years – so I pat myself on the back for it!" 
"I managed to get a degree of confidence and self belief from most of the theories and practices I learned on the course," he said. "Nothing has fazed me since I started the apprenticeship. I just need to carry on the good work. 
"I think I've already achieved my career goal. I think personally I'm at the top of my tree and it's all thanks to the college staff and Rolls Royce. I want to remain where I am doing the same sort of work and doing it well." 
Finally, Peter had some advice to share with others hoping to work in the engineering industry.  
"Take it seriously," he said. "It's your career at the end of the day. There are people in place to help you, but the biggest thing you can do is to help and push yourself to achieve. 
Thanks Peter, we wish you all the best in your career going forwards!