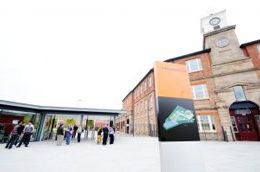 Derby College will be showcasing a wide range of skills and career opportunities at the annual Roundhouse Open Day on Saturday April 16.
The event between 10 am and 12 noon is free to attend and will include a wide range of taster sessions to give young people, and adults, alike the chance to try their hand at a number of skills activities.
The activities will include Engineering and Professional Construction with a particular focus on encouraging more females into these traditionally male-dominated industries.
Visitors can take part in workshops around practical surveying and also 3D modelling as well as a range of Engineering-based workshops including using the latest CAD equipment.
The IT Department will be showing visitors the work that students do as part of their course including coding and will be setting a computer networking challenge.
Other departments taking part will include the Engine Shed Training Restaurant and the Sensi Hair and Beauty salon.
Among the students attending on the day to talk to visitors will be Professional Construction and Built Environment student Suzanne Butler
Seventeen-year-old Suzanne Butler always had a love of design and was on a full time Construction course when she was given the chance, through the College, to apply for an apprentice role.
Now she has transferred to study for a part-time Professional Construction and the Built Environment Extended Diploma, while working as an Architectural Technician Trainee with Derby's Morrison Design Agency.
Once she completes the diploma, Suzanne aims to continue her training in Architecture.
"I initially started on the full-time course after going to a Derby College enrolment day, but thanks to the college a number of us were given the opportunity to apply for the position of an apprenticeship with Morrison Design Agency.
"I was lucky enough to be one of those who were chosen and after transferring to the Extended Diploma, I now do four days at work and one at college.
"We're doing a lot of CAD (Computer Aided Design), which helps with my design skills and helps to give me confidence that I'm doing the right things at work.
"College is giving me the foundation for what I want to do, which is to eventually become an architect after doing my RIBA (Royal Institute of British Architects) courses.
For more information about the Roundhouse Open Day and other information evenings at all the College campuses, please visit http://www.derby-college.ac.uk/news-events/events or call 0800 028 0289.