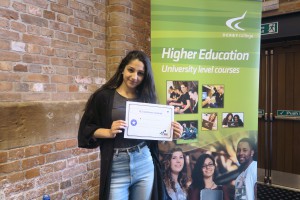 Derby College learners who are studying Higher Education programmes and who have contributed to student life through the Derby College Student Union have been recognised at an awards evening.
The Derby College Students' Union FE & HE Celebration Event was held at the Roundhouse with certificates presented to the learners nominated.
The Animal Management HE awards went to Lauren Spence, Rachael Grundy and Ellen Radage. The Foundation Degree in Criminal Justice recipients were Caffelia Burton and Emma Johnson. The HE Children and Young People Award was presented to Joanne Parker. Security and Offender Management HE award went to Harry Holden and HE Student Ambassador Vicky Manester was recognised for her volunteering support to fellow students.
Derby College Student Union awards went to officers and reps who are based at College campuses in Derby and Ilkeston: Robin Noon, George Hind, Carl Anderson, Jayde Felton, Kara Muggleton, Chantelle Kemp, Gary Malcom, Mariam Malik, Chloe Smith, and Liam Dorricot.