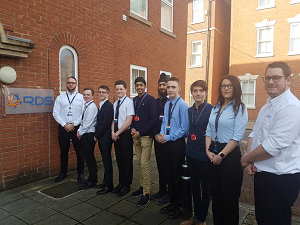 IT specialists RDS Global has joined Derby College's innovative Employer Academy programme to showcase the varied career opportunities available to students.
RDS Global, based in St James' Street, Derby, was established in 1997 and specialises in providing tailored network services, IT support, cloud, hardware and consultancy solutions for 4,000 users in 200 locations across the UK in a range of sectors including automotive retail, builders' merchants, care homes, hotel and hospitality and professional services.
Eight students from the College's Joseph Wright Centre have joined the RDS Global Technology Employer Academy.  They will now take part in special projects and benefit from work experience at the company.
They are Reece Roberts (19) from Derby, Joe Walton (18) from Ripley, Daniel Baldwin (16) from Long Eaton, Jagdeep Singh (18) from Derby, Samuel Purjavie (17) from Mickleover, Daniel Naylor (17) from Alvaston, Brandon Baviana (18) from Littleover and Ben Morley (18) from Sinfin.
RDS Global Managing Director Andy Flinn explained: "We cover such a broad range of services from IT and engineering to CCTV and telephony that require diverse skills.
"The College provides core study programmes in IT and infrastructure but this an opportunity to show the students the specific skills sets that companies such as us require.
"I hope that the Employer Academy will inspire these young people to focus on their career path and that hopefully some of them will be future candidates for job roles within RDS Global."
Derby College Deputy Principal April Hayhurst concluded: "This is a fantastic opportunity for our students to explore the different career paths available to them in IT as they decide on their next steps – whether that is onto university, a higher apprenticeship or into work.
"By gaining work experience with different teams at RDS Global they will see what the jobs are really like and will help to bring their study programme to life and give them a clear line of sight to the workplace."