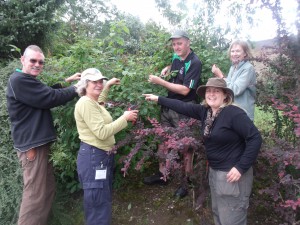 Derby College is appealing for volunteers to help restore the historic gardens at the Broomfield Hall campus after it secured a £4,000 grant to further improve the campus grounds and boost its appeal as a visitor attraction.
The support from the Stanley Smith (UK) Horticultural Trust will enable the horticulture team at Broomfield to help restore the Victorian gardens to their former glory – buying new plants, shrubs and semi mature trees.
Eleven volunteers are already helping with clearing, planting and maintenance of the grounds but Head Gardener Samantha Harvey explained that the real hard work was just about to begin.
She said: "We are extremely grateful for the support of some of our former students and local gardeners who regularly come to Broomfield to join the work parties but we really could do with more.
"A vast array of plants and particularly roses are due to be delivered in the near future and it will be all hands on deck to clear the area and start the planting programme."
The gardens at Broomfield Hall were created when the original hall was built in 1873 by industrialist Charles Schwind.
They still retain the Victorian layout and the plan is to improve these further with several developments including contemporary herbaceous planning, designing; planting a sub-tropical area and installing colourful rainbow planting.
Miss Harvey, who is a former student at Derby College and then trained at the Royal Botanic Kew Gardens in London, said: "We have got big plans for the gardens at Broomfield Hall and our aim is to make these a notable visitor attraction.
"Once established, we are confident that this will be a wonderful visitor attraction.  We already welcome tours of organised groups such as garden societies and WIs but want to broaden this out to the wider general public.
"As the work progresses, we aim to open the grounds more frequently and welcome people to tour the picturesque grounds and learn more about the different trees."
"The students are obviously involved and are gaining valuable work experience to improve their employability skills.  However, we would also be grateful for the input of local people who can volunteer some of their time to be part of this exciting project."
Amongst the local people who are already volunteering at Broomfield are former mature learners on the College's Horticulture course – Rick Lucas, Richard Phipps and June Stanley.
Retired teacher Mr Lucas from Derby said: "This is a wonderful environment and you learn so much about plants from Samantha.  We are undertaking tasks that we have always done as gardeners but it is great to learn more about why we do it and the benefits for the plants."
Richard Phipps from Nottingham has just completed a two year diploma at the course after taking semi retirement from his job at Nottinghamshire County Council.
He said: "I have thoroughly enjoyed the course and had so many fantastic opportunities such as being part of the team who won Gold for our border at Gardeners World Live that I wanted to give something back to Broomfield and volunteer here every week."
June Hartley from Stanley continued: "Gardening is such a lovely sociable activity and this is the opportunity to handle a wide range of plants that you would not normally have in your own garden."
They are joined by Katrina Van Rensburg from Codnor who said: "We are receiving formal training throughout our time volunteering so it will be nice to come away with some qualifications as well as fantastic experience in different techniques. It is something that I look forward to every week."