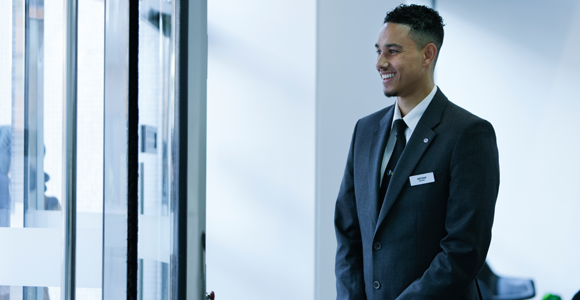 Derby College has teamed up with a national leader in security solutions to highlight to students the wide range of career opportunities available in the industry.
Wilson James work with a wide range of clients across the UK and Europe including cultural heritage venues, leading businesses, and regional airports.
Students on the Public and Security Services study programme, based at Broomfield Hall, will apply to join the new Wilson James Security Academy in the coming weeks.
Much of the work will focus on the growing area of airport security – based at East Midlands' Airport – where the students will learn first-hand from Wilson James' security experts what it means to work in the industry and the career opportunities available.
They will also undertake work experience and go on site visits to some of Wilson James' client premises. Towards the end of their study programme, they will receive on-the-job training with a view to being offered a full-time role and the start of a fulfilling career in airport security.
Dee Thomas, Wilson James Director Aviation, explained: "This is the first partnership programme that we have undertaken in the UK and I am delighted that we will be working so closely with Derby College over the coming year.
"Our aim is to broaden the students' horizons and show them the wide range of transferable skills that we require as an employer to help them shape their future career choices.
"To work in security management you need technical expertise, the ability to decipher process and regulations, and the capacity to implement robust measures that will ultimately protect people.
Wilson James is a company that believes in the development of its people and we pride ourselves on giving people opportunities to develop their careers.
"Working with Derby College, we therefore have the opportunity to give students the work experience to get the first step on the career ladder and show them at an early stage in their working lives the broader picture of where they can develop onto."
Ms Thomas continued as to why the company had launched the partnership programme with Derby College:
"We are similar to many industry sectors in having a relatively small percentage of the 3,000+ Wilson James workforce aged between 18 and 30 and around 30% are close to retirement age.
"So we urgently need to attract more young people to work in security, both in management and frontline roles."
The Wilson James Security Academy is the latest stage of Derby College's Employer Academy programme – designed to bridge the gap between education and the workplace – which has received national recognition.
April Hayhurst, Derby College's Deputy Principal – Employer and Economic Affairs, concluded: "The security industry – particularly working aviation – is a growing area and one which our Public and Security Services students may not have originally considered when choosing their study programme here at Derby College.
"This is therefore a unique opportunity for them to gain a greater insight into the skills and attitudes that employers such as Wilson James are looking for and the diverse career opportunities available to them in the short, medium and longer terms.
"We work with nearly 3,000 employers across a wide range of industries who provide all kinds of support from work experience and site visits to guest lectures and mentoring.
"These forward-thinking businesses and organisations recognise that, by developing students' work skills and attitudes, we can support individuals into jobs and address skills shortages in the workplace."