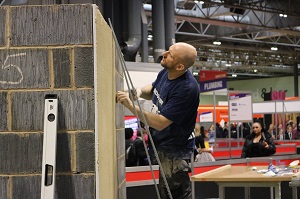 Derby College students have been flying the flag for vocational careers at the Skills Show at Birmingham's NEC – the UK's largest skills, apprenticeships and careers event.
Firstly mature student Haralds Jonans (37) clinched the silver medal in the senior Plastering competition.
Haralds, from Chaddesden, came to the UK from Latvia seven years ago and is one of more than 20 deaf learners who attend Derby College – supported by signers in the workshop and in lessons.
He completed an intricate Plastering challenge over the three day competition and narrowly missed out on winning the gold medal.
Elsewhere at the Skills Show, Derby College's Motor Vehicle Academy set up a 'Pit Stop Challenge' for visitors to change a wheel on a branded Suburu car against the clock.
Hundreds of visitors competed in the challenge with the winner recorded an impressive time of one minute and two seconds.
Meanwhile 96 Protective Services students based at Broomfield Hall volunteered to provide stewarding services at the event and also organised team building activities for visitors.
Derby College Chief Executive Mandie Stravino said: "The annual Skills Show is an important showcase of vocational skills, apprenticeships and careers and I am delighted that our students have played such a prominent role in various aspects of the three-day event at the NEC.
"Our Construction Academy has had a particularly excellent track record in the World Skills UK competitions and we very proud of Haralds' success this year.
"Protective Services students have been providing stewarding services at the event for many years which not only ensures the event runs smoothly but also provides them with valuable work experience to support their future careers.
"And the Pit Stop Challenge will hopefully inspire young people to consider the Motor Vehicle industry as an interesting and rewarding future career."